Air mogador proposes :
Whatever service you choose, we can manage the reservation of your vehicle, with or without driver, from the descent of the plane, to your return to your hotel or to your go.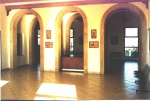 The AIR MOGADOR company will accomodate you within the superb airport infrastructure of the airport of ESSAOUIRA-MOGADOR. This air terminal of local inspiration and recent construction is insulated on a plate to 10 km from the town of Essaouira on the road from Agadir.
We ensure the hotel-airport transfer in air-conditioned van at any time of departure or arrival.
The track of the airport has been just lengthened in order to accomodate the large transport aircrafts pouring the floods of tourists. This work was completed following the keen demand of the tour operators. A free zone is envisaged with the increase in the surface of greeting of the air terminal.